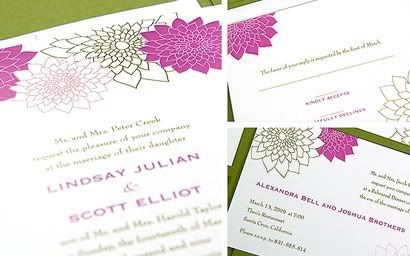 So many choices. Probably
too
many choices when it comes to stationary. I'm a sucker for brilliant visual stimulation...and the texture of fine paper gives me goosebumps! How on Earth were we going to select a design? a paper type? a printing company? Omg.
I could, I honestly could, look at stationary for hours. Hours. How do you sift through it all?, Besides beautiful design, and obvious cost, the most important element to
us
was the
environmental
impact of it all. My Guy has implemented a recycling program at the school in which he teaches...he takes public transportation almost exclusively (even though he has a vehicle), and he has a real heart for making our world sustainably sound. *sigh* He's so dreamy.
It was easy for us to chose
Earth Friendly Invitations
for our printing company. They offer the
best
of both worlds -
beautiful
designs with
amazing
eco-friendly commitments!
Listen to why they are amazing for
us
and our
planet
:
- offset co2 emissions from their shipments via carbonfund.org
- donate to environmental projects
- pledge to recycle/reuse everything possible
- create an energy efficient business office
- compost/recycle leftover paper scraps
- reuse shipping supplies
- use quality, recycled paper
AND they have many
lovely
designs! I'm ecstatic!! Now the
REAL
hard part will be selecting which design to adopt as our own....and
then
what color scheme we want...and script...and composition. Ha! Thankfully this company makes this whole process simple and clean.
Lovely style + eco friendly = our kinda company.
I'm so happy!